REGISTRATION
1. Invitation Letter

If you need an invitation letter or conference notice for Visa application or remittance, please contact us at smartiot.conf@gmail.com.

2. Each accepted paper must have one Author Registration before 25 June 2020. The Author Registration fee is:




Page Limit:

Regular papers: 8 pages, special session papers: 5 pages, poster papers: 2 pages, including all figures, tables, and references.

Purchasing Extra Pages:

Conference Papers: Up to 2 extra pages may be purchased at $100 or 640RMB per extra page.

Attention:

Each paid registration covers only one paper; you can pay Extra Registration Fee for one more paper from the same first author who has a paid registration.

3. Payment Information


IMPORTANT:

• Rember to indicate the conference name and your paper ID in the note of your bank transfer, such as "SmartIoT2020-Paper ID". Then, save your bank transfer receipt and fill the registration form .
在转账过程中,请务必在转账信息里备注"SmartIoT2020-Paper ID",paper ID为您的论文编号,以便我们核实您的汇款信息。不添加备注可能导致我们无法及时确认您的汇款信息。转款完成后,保存您的付款证明或者转账记录并填写注册表。

• After registration, please fill in the registration form and send it to smartiot.conf@gmail.com

• The registration form can be downloaded here: SmartIoT2020-registrationForm

▲ For participants pay by RMB:

• Bank Transfer:

单位名称:天津美津会议服务有限公司

开户银行:上海浦东发展银行天津浦祥支行

银行账号: 771 200 788 018 000 001 10

银行行号:310 110 000 128

联系电话:022-8702 5781

公司地址:天津市南开区长江道18 号融侨中心写字楼14 层

• Sweep the code to pay: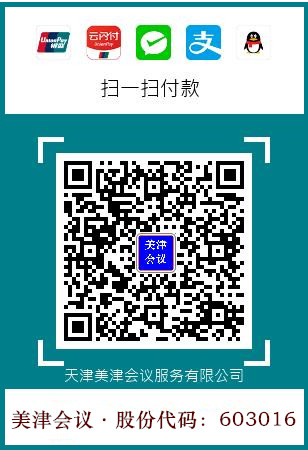 ▲ For participants pay by USD:
• Bank Transfer:
Beneficiary Information: (受益人信息)
COMPANY NAME(公司名称): TIANJIN MEIJIN CONFERENCE SERVICE CO.,LTD
ADD(公司地址): ROOM 12B-06, RONGQIAO CENTER, #18 CHANGJIANG RD., NANKAI DISTRICT, TIANJIN, CHINA
ACCOUNT NO.(银行账号): 771 200 788 145 000 004 32
Bank Information: (银行信息)
NAME(银行名称): SHANGHAI PUDONG DEVELOPMENT BANK TIANJIN BRANCH
ADD(银行地址): TOWER D HUAN BO HAI CENTRAL PLAZA NO.9 BIN SHUI RD, HEXI DISTRICT TIANJIN 300061 P.R. CHINA
SWIFT NO.: SPDBCNSH080
If your bank accepts credit or debit card transfer, you can also register with your credit or debit card.
Copyright ©IEEE SmartIoT2020. All Rights Reserved.
Created and Maintained by IEEE SmartIoT2020